Home
»
INTERVIEWS
»
Play 200: Developers Pick Their Favourite PlayStation Games
Play 200: Developers Pick Their Favourite PlayStation Games
To celebrate our 200th issue Play got in touch with some of the world's top developers and asked them all a series of ever-so-simple questions. One of these was what has been their favourite game released on any PlayStation platform? They responded in their droves, so here's a substantial collection of their picks.
My personal favorite remains the very first Resident Evil for the original PlayStation.  Looking over the entire library from three generations of PlayStation games, I wanted to pick the one game that really changed the gaming landscape for me personally, and Resident Evil was that game, and even though it is dated by today's standards, it was personally the most rewarding gaming experience I had on the PlayStation game console.
Despite its age, Resident Evil set the standard for story telling in disc based games that set the pace to this very day, with memorable characters, an amazing sense of mise-en-scène and was just plain fun to play, inciting me to stick with it 'just a few minutes more' throughout.  It had actually frightening moments, was full of chills and genuine suspense, and had a mystery that kept me engrossed throughout.  It was engaging enough as a cinematic experience that my wife enjoyed sitting on the couch watching me play- the first time she ever felt so compelled.  At the time, it made me both jealous as a developer and stirred me to make better games.
The only piece to mar my memory is the repetitive door animation used to mask the loading process.  That damn door still haunts my dreams.
Timothy Gerritsen, director of product development, Irrational Games
I'm torn apart between Ico and Resident Evil . Aaarrgh… I will have to go with RE since I love horror fiction.
Jean-Francois Dugas, game director, Eidos Montreal

I would say Metal Gear Solid, phenomenal masterpiece at the time of its release. It's been a while since I played, but I still have memories of its great moments.
Jarek Kolar, senior gameplay producer, 2K Czech
Metal Gear Solid of course. I've been playing video games all my life. I have played on most platforms but mostly on PC until this game came out. It definitely made me want to commit to console games from that point on.
Vincent Pombriandt, producer, Ubisoft Montreal
It's a tossup between Shadow of the Colossus, which is just a beautiful, engaging and elegant little game, and Little Big Planet, which has engaged, better than any other console title in history, its customers in the creative process.
Randy Pitchford, CEO and president, Gearbox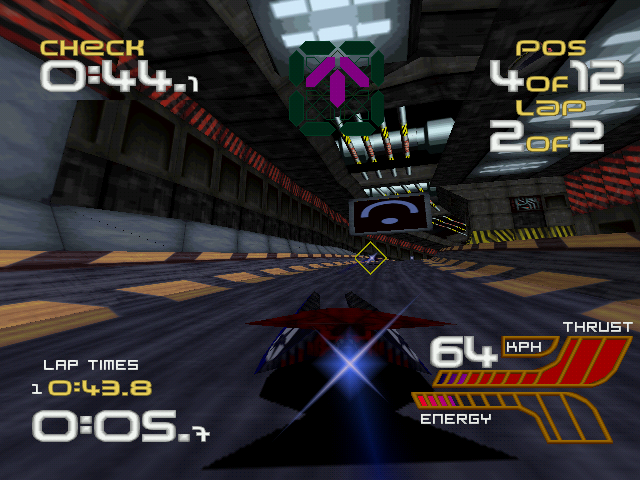 Wipeout XL blended cutting edge design, a compilation of the best electronic music, and searing vision of future with racing, weapons, and combat in a package that like no other. Wipeout 2097/ XL was the pinnacle of the series because of the improved gameplay and handing of the original, introduced bombastic weapons such as the quake and had one of the greatest soundtracks ever in videogames. Plus you had to be a complete ninja to complete that game on phantom mode. It was so fast that you had to know every pixel of the course design like the back of your hand and play through it flawlessly to be able to compete the game. I can't tell you the amount of hours that I put into perfecting my skills on Wipeout 2097/ XL. I still have flashbacks of sitting in my bedroom with the music cranked up to full practicing with an intensity and focus that made it look like winning a race was a matter of life or death.
Darrell Gallagher, head of studio, Crystal Dynamics
Baldurs Gate: Dark Alliance holds a special place in my heart as it's the first game I ever played through co-op with my wife.  The ease of the mechanics, the great game balance and the memories it holds make it my favourite PlayStation game.
David Abzug, Design Lead, Volition
Oh my God, this is a very challenging question… In 15 years, I have played so many games in so many different genres and styles that it is very difficult to pick only one.
If I had to decide on the spot, I'd probably say Ico. I thought it was a very unique emotional journey with a unique story, an incredible ending and a fantastic ambiance.
If I could mention a couple of others in no particular order, I would probably say Okami, a game that I really loved for its style and different approach, Tekken 1, 2 & 3, games I spent a ridiculous amount of time playing, PES and FIFA (yes, I am a huge fan of football games…), Rez also of course, Katamari Damacy, Soul Calibur, Resident Evil, Metal Gear Solid, Final Fantasy and Flower.
I realise how many Japanese games are in my list but the Japanese industry has made some of the most inspirational games ever in my opinion.
David Cage, director and founder, Quantic Dream
That's a tough question. There have been so many classic PlayStation franchises that have become staples for gamers and are synonymous with the system. However, if I had to pick one, I would say God Of War. That game had so much personality and unapologetic brutality that I had to play it. Its presentation was so clearly influenced by film which made the whole experience so much bigger than life and each sequel upped the ante in terms of  what defines a God Of War game.  Fans had to have each game because they needed to know what eventually would happen to Kratos.
Ed Boon, producer, NetherRealm Studios
Probably God Of War – the first game.  Such a great experience – tempo, environments, characters, animation, and a well balanced design.  Tops for me!
Brian Fleming, producer and co-founder, Sucker Punch
I like PaRappa The Rapper. It started that whole sequence gaming thing in my mind.
Greg Zeschuk, VP and group creative officer, Bioware
I really loved Parappa The Rapper when that came out, because it just felt so fresh. That sort of made me think about the games industry in a different way. Parappa The Rapper was a classic moment for me. That's something that I really associate with Sony as well in terms of what I think they've brought to the mix. As a game mechanic it was dead simple, but the whole take on it made me realise how computer games could appeal to a whole lot more people. That's the sort of thing to me that made me think we can extinguish this image of games being about kids in their bedrooms. It was almost casual in a way. And it was funny and made me laugh. I like computer games to make me laugh.
Mark Healey, creative director, Media Molecule
The first title that comes to mind is Uncharted 2. That game had so much going for it. Beautiful, perfectly paced, seamless combination of platforming and action, fun story. But what stood out for me most was the hilarious dialog. "I'm so tired of climbing shit". The other one is Little Big Planet from Media Molecule. It's blissfully simple, running and jumping from the left to the right of the screen, but the genius is in how they got that feeling of Indy developer creativity across to the player. Those guys must have had such a blast making that game, and that's exactly what I feel when I play Little Big Planet with my son.
Hermen Hulst, managing director, Guerrilla Games
I'm having a tough time choosing between Final Fantasy VII, Katamari Damacy, Shadow of the Colossus, and Uncharted 2.  So, please don't force me to choose.
Jenova Chen, game director, thatgamecompany
I probably won't be the only one to say Shadow of the Colossus. A game that had me enraptured, awestruck and in tears. Sure we all know about the soaring emotions, the beautiful grown-up aesthetics and the genius game design, but what about the audacious ambition? The courage needed to stick to such a risky proposition and keep a game so focused, elegant and intelligent?
Ueda-San, you are a games industry genius.
Matt Southern, game director, Evolution Studios
I really liked Ratchet and Clank: Going Commando,  primarily for the Ice World two thirds of the way through the game.  It had a sense of scale that blew my socks off.
Nate Fox, game director, Sucker Punch
My favorite game on the PlayStation 1 was Resident Evil. Creating the term 'Survival Horror', it has been imitated by a number of games. Resident Evil was a dark, scary, thrilling experience that had me on the edge of my seat. It was the fist really frightening game that I purposefully played in the dark to add to the experience. Some of the lessons I learned while playing this game, and the titles that followed, I applied to making Doom 3 even scarier.
Tim Willits, creative director, id Software
It's actually a slightly weird choice, but in recent memory on the PS3 it was actually Valkyria Chronicles, which I clocked three times. I'm not an achievement point or Trophy whore at all when it comes to games, but that was a game that I had to get everything.
I still have very fond memories of Pro Evo on the PS2 and Gran Turismo as well. I was fortunate enough at the time that Gran Turismo came out in Japan that I had another business as well as working at Sports Interactive and one of them was licensing music for videogames. I had a lot of companies that would pay me a fee to look after their catalogues and I ended up putting the music together for the western version of Gran Turismo 1, 2 and part of 3. So, getting to work on that at an early stage and then seeing that come to fruition.
There have been so many great titles, but recently Valkyria Chronicles and before that PES and Gran Turismo. Oh, and Final Fantasy as well.
Miles Jacobsen, studio director, Sports Interactive
We still have long debates in the office about the relative merits of different versions of Pro Evolution Soccer – which, as a series, has certainly consumed more of my time over the past years than any other. As an all-time favourite, I'm going for Pro Evo 3, on PS2. The difference from Pro Evo 2 was startling at the time; and it's a game we still play to this day.
Jonathan Smith, development director, TT Games
I will never forget my initial reaction when I first played Burnout 3: Takedown at E3 2004.  The long-held standard of conventional racing games to "avoid crashing at all costs" was thrown out the window and replaced with the concept of it actually being "fun to crash."  I thought this was just an amazing idea, and in wrestling games can be likened to the concept that memorable scenes are made memorable by the reaction of the wrestler being attacked.  Burnout 3 wasn't just about sheer intensity, though; gameplay was fine-tuned so that controls were user-friendly even at ultra-high speeds.  You literally felt like you were in the driver's seat, whooshing down the track at full force.  As an aside, the DJ was completely localized for the Japanese version, and playing the game made me a fan of that DJ.  I think there are many other Japanese players who had the same experience as me.
Taku Chihaya, senior creative director, Yuke's Yokohama
Still to come – Developers name what they think has been the PlayStation's biggest contribution to the games industry and their most influential games.
In the mean time Issue 200 of Play is on sale now from all good newsagents and supermarkets featuring the 200 Greatest PlayStation Moments. You can also get Play from our eShop and for iPad/iPhone/iPod Touch via iTunes.